Rail Holidays 2019/2020
Train Holiday Promotions
A World of adventure awaits

Destinations to relish, memories to cherish

With 2018 coming to a close, it's time to look to the future and get excited about travelling the world in the years to come! Taking you to more global destinations than ever before, Great Rail Journey's excellent worldwide collection is full of fascinating excursions and memorable experiences. More than just that though, our Early Booking offer can see you save on selected tours, making it even easier to discover your dream rail holiday. Discover the world, the Great Rail way.

2020 Early Booking Offer

Take advantage of our saving of up to £200 per person when booking 2020 Worldwide holidays on or before 19th February 2019.
Iconic Train Journey's
Travelling by rail grants a unique insight into the beauty, culture and history of a nation like no other form of transport can. From the windows of your carriage, experience spectacular views and glorious panoramas as you glide through magnificent countries across the globe, seeing the finest sights they have to offer. On a Great Rail Journey, the journey becomes part of the destination.
Wonders of the World
You'll have heard all about them – those spectacular wonders of the world, iconic bucket-list sights to be seen on once-in-a-lifetime adventures. From the misty elevation of Machu Picchu to the crashing waters of Niagara Falls and so much in between, these destinations are timeless, incomparable and simply magnificent. Now, with Great Rail Journeys, we're proud to offer you the opportunity to experience them for yourself. Take a look below for more information.
Brand new destinations for 2019!
We are proud to include a range of incredible new tours, showing you the wolves of Yellowstone, the amazing Cabot Trail, and the incredible beauty of Java and Bali, we are sure you'll find somewhere truly incredible to explore in 2019.

Whilst our customers often tell us how much they love our holidays just as they are, it's our ambition to grow and evolve and we want to take you to undiscovered destinations, arrange stays at little known hotels and whisk you off on journeys aboard incomparable trains. Sometimes this just isn't possible with our usual sized groups however, so we've been working hard to bring you eight new tours where the group numbers will never top twenty.
New for 2019, our exclusive small groups tours allow you to travel to otherwise inaccessible destinations, stay in accommodation that ranges from lofty mountaintop perches to grandiose French châteaux, and enjoy one-of-a kind excursions.
Our four brand new Winter and Festive tours
Enjoy the beauty of the Danube at New Year, seeing in 2019 in elegant Vienna, or discover the incredible mountains of the Matterhorn and Mont Blanc. Want to stay closer to home? Why not explore Shakespearean Stratford, or even the lovely heritage railways of Wales?
EUROPE, UK & CRUISE
BRAND NEW TOURS FOR 2019
We're expanding our destinations for 2019! From the Lake District and Cornwall to Tuscany and Poland, Europe is opening up even more just in time for you to start thinking about your adventures next year. Find these tours online - you could discover your perfect destination!
Our Best Selling European Holidays
Venture through Europe on journeys that will take you to some of the most spectacular sights the continent has to offer. Soak in the sights of stunning Sirmione in Italy, or behold the grandeur of the Imperial Cities breathtaking architecture. Of course, numerous incredibly railway journeys are abound; with exciting adventures taking you through Switzerland, Austria, France, and Germany on some of their most iconic lines.
13 days from £2,095PP
Fascinating grand imperial cities and high-speed intercity train journeys showcase the turbulent history of Central Europe. Discover what turned these former Habsburg and Prussian cities into four of Europe's greatest destinations.
8 Days from £1,495PP
Stunning scenery and spectacular views are enough to take your breath away as we travel by rail through the heart of the Swiss Alps on the world-famous Glacier Express train. We enjoy thrilling mountain railways, charming towns and dramatic Alpine scenery.
10 Days from £1,315PP
Discover two of Germany's most picturesque regions on this fantastic two-centre holiday. We explore the half timbered villages and stunning peaks of the Harz Mountains by heritage railway before visiting the stunning Rhine Gorge, where the legendary Lorelei Rock still casts its spell.
10 Days from £1,715PP
Known as the 'Pearl of the Lake', picture-perfect Sirmione is perched on a peninsula on the southern shore of Lake Garda. On this exceptional tour we visit Mantova, the Sigurtá Gardens, and iconic Venice, for a guided tour of this incredible 'Floating City.'
10 days from £1,515PP
Explore the mighty Austrian Alps on this wonderful tour to one of Europe's most scenic and alluring countries. From our base in the enchanting Tyrolean town of St Johann, we discover the majesty of this Alpine wonderland.
7 days from £1,295PP
Discover Avignon, the Rhône and Provence. Inspiration for artists including Vincent Van Gogh, this region of France oozes history, charm and atmosphere. Staying in the delightful city of Avignon, we explore Roman Provence and enjoy a lunch cruise along the Rhône.
New Escorted Tours by Rail
7 days from £895PP
From mysterious citadels and Roman remains to fantastical red rice and white horses, experience France's southern way of life with its unique and unusual allurements and marvel at Carcassonne's walled 'cité'.
10 days from £1,495PP
Tuscany is famous for its incredible beauty, quintessentially Italian towns and villages, and long history. Discover all of these things on this fantastic all inclusive tour from your wonderful base in Chianiano Terme.
9 days from £1,345PP
The Austrian Lake District is nothing short of magnificent, a tranquil paradise for the discerning traveller. This tour sees you discover this charming area on an all-inclusive basis from your hotel in Altmünster.
5 days from £395PP
From your base in Carlisle, travel on three incredible railway lines, and enjoy the breathtaking panorama of the spectacular north of England, including the world-famous and UNESCO-listed Lake District.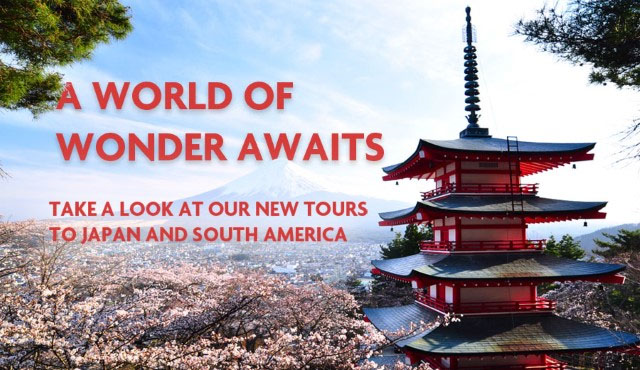 Discover some of the world's most captivating attractions on one of our brand new tours to Japan or South America. Take in the unforgettable views at Machu Picchu, witness unique and fascinating wildlife on the Galapagos Islands or embark on a grand tour of Japan and explore its vibrant, historic cities.

For those looking to discover iconic destinations and diverse cultures,our latest collection of worldwide tours are the perfect option.
About Train Holidays
The train holiday is enjoying something of a renaissance; year on year its popularity grows.
And with good reason. Rail travel is a fun, relaxing way to see new places, experience new things. A social, communal holiday that blends guided touring with time to savour for yourself if you so desire. What's more, train travel represents an environmentally friendly way to see the world. What better way to take in the wonder of a new country, new location, than by relaxing in your seat looking out at the ever changing scenery as the train cuts through the countryside and cities; taking in the mountains, rivers, forests or skylines; to look with wide-eyed wonder at new places, different wildlife, amazing landscapes.
Train holidays offer you the chance to explore some of the world's most breathtaking areas with spectacular scenery that will stay with you for a lifetime. An opportunity to wind your way through Europe, historic cities, the great lakes of Italy or the snow-capped beauty of the Alps or maybe to head further afield, to follow in the footsteps of Casey Jones on the American railroad; from the greenery of the east, the cornfields and the plains of the Midwest, into the Rockies as you head to the warm pacific shores.
Or perhaps you prefer to explore a little closer to home – check out our wonderful tours through Britain, recreating the style and slow pace of the age of steam as you meander through the beauty of the Yorkshire moors, the Welsh mountains, Scottish Highlands or Lake District.
It may be a hark back to older times, but for many, a train holiday represents a new, wonderful experience that will have you craving for more.
Escorted Rail Tours Worldwide
---
A railtour is a special train which is run in order to allow people to experience rail travel which is not available using timetabled passenger services. The 'unusual' aspect may be the route of the train, the destination, specific sections of railway track (for example, freight-only lines), the locomotive hauling the train, the rolling stock (passenger carriages), or any combination of these. Organisers may own or hire locomotives or rolling stock, or tours may be organised by railway management or other bodies outside the railway fraternity. Perhaps the most famous railtour in England was the Fifteen Guinea Special, the last steam hauled main line train run by British Railways.