Switzerland Train Holidays 2019/2020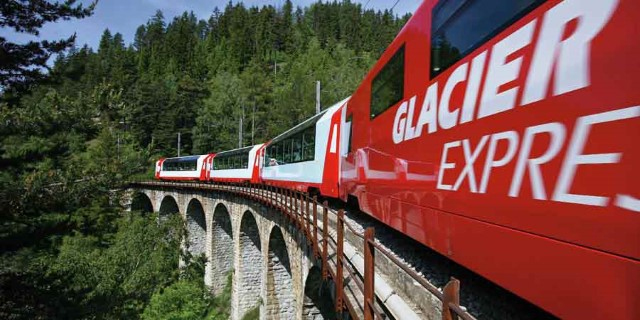 Stunning Switzerland Awaits
Switzerland's beauty deserves to be discovered at a gentle pace. Moving deliberately through the country's picture-perfect landscapes, travelling by rail allows you to pay every mountain and meadow your full attention, as the steady pace of the train offers ample time to let it all seep in.
Switzerland is a land of incredible beauty; from the depths of the blue glacial lakes, to the green and abundant meadows, to the tops of the craggy grey Alpine mountains. Discover all of this natural beauty in the best possible way, as you wind through it on board iconic and comfortable trains. Why not enjoy Switzerland this year?
Stunning Switzerland is glorious at all times of the year. Even though it's famed for its snow covered beauty in the winter, in the spring and summer, it is a glorious sight of lush, green meadows, deep blue lakes, and the craggy grey peaks of the Alps.
Blessed with sublime scenic beauty and a serene way of life, Switzerland is a truly unique destination. Explore quaint, chocolate-box villages, soak up glorious, sweeping mountain vistas and journey on some of the most iconic railways in the world on an idyllic Swiss escape with Rail Discoveries in 2019.
Day dreaming about mountain meadows, lakeside towns and some of nature's finest beauty spots? Look no further than magnificent Switzerland! Why not make 2019 the year that you head to this Alpine paradise by booking onto one of our excellent Swiss tours?
Rolling Alpine meadows, quaint chocolate box villages, glistening mountain lakes and dramatic mountain peaks; Switzerland is truly a feast for the eyes. And, there is perhaps no better way to discover this enticing destination than by its elegant, iconic and scenic railways.
Deep azure lakes, sweeping mountain views, chocolate-box villages and iconic rail journeys; if you're dreaming of an escape filled with captivating natural beauty and charm, look no further than Switzerland.
Switzerland Train Holidays
7 days from £1,210PP
Staying up in the Swiss Alps, this tour takes in the best of Alpine elegance. Enjoy iconic rail journeys and visits to Zermatt and Montreux.
7 days from £1,495PP
Discover the incredible beauty of four stunning lakes: Orta, Maggiore, Como and Lugano. Steep yourself in scenic surrounds on a delightful Italian lakeside holiday by rail.
8 Days from £1,595PP
Surround yourself with unspoiled scenery in the village of Kandersteg, an Alpine gem and ideal for all levels of walking in the Swiss Alps. Enjoy scenic mountain railways with stunning vistas and visit beautiful Interlaken.
8 Days from £1,695PP
The spectacular mountain landscapes and lush meadows of the majestic Alps await on this unforgettable holiday in Switzerland's famous Bernese Oberland. Travel to the summit of the Schilthorn and experience the tremendous Trümmelbach waterfalls, all on some of the best heritage railways in Europe.
10 Days from £2,595PP
On this spectacular tour we visit dazzling Lake Como, enjoy boat excursions to Varenna and Bellagio, take a stunning scenic journey on the iconic Bernina Express, and visit the UNESCO World Heritage site of Bellinzona. In Milan, we visit the city's best sights, including its most famous mural: Leonardo da Vinci's 'Last Supper.'
8 days from £1,195 per person
Experience the best of Switzerland on a tour that showcases classic Alpine scenery. Enjoy journeys aboard three iconic railways as well as time to explore elegant resorts at your own pace on this typically Swiss tour.
Tour Information
Glacier Express All Inclusive - Jungfrau Express All Inclusive