2022 Rail Holidays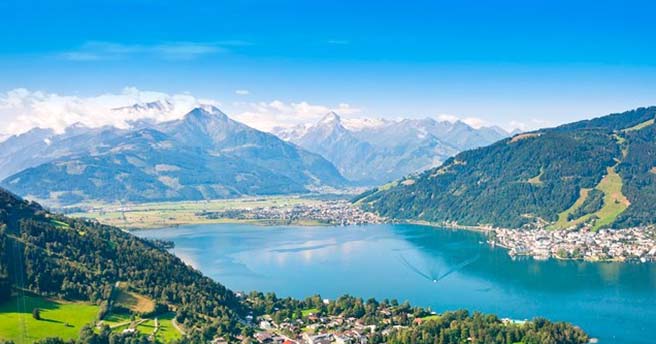 Find your Extraordinary
Future travel is looking bright, and if you're thinking about taking a much-deserved holiday in 2022, we have just the thing! All of our Europe 2022 holiday dates are now available to view, introducing you to extraordinary destinations and unforgettable rail journeys across the continent. If you'd like to get your hands on our new tours, click below to request your free travel brochure and get ready for an extraordinary rail adventure.
This year, we're set to explore the world once more and soak up its vibrant and kaleidoscopic sights. So, whether you want to travel near or far, join us for a true rail adventure and get ready to live life in vivid technicolour. While we can't help but be excited for all the places we might take you in 2022, we also know that travel still feels a little uncertain. That's why we've introduced our Flexible Booking Offer, which allows you to transfer your holiday for free and for any reason up until the day of your final payment. You can also rest easy knowing we're 100% ABTOT and ATOL protected.
Huge Savings for 2022
Have you been dreaming of glittering mountain lakes, sun-kissed beaches or new cities teeming with life, culture and new tastes? We're all feeling the call of the open road after the past couple of years - so why not make 2022 the year you fulfil some long-held travel aspirations. We have a huge range of offers and flexible booking options that can help make those dreams a reality.
To celebrate a new year of travel possibilities, we'd like to offer you a saving on your next escorted rail holiday with us. Save up to £300 per person when you book your 2022 Europe or Worldwide holiday on or before 31st January.
Where Will 2022 Take You?
Are you thinking about your next getaway? Perhaps you're contemplating that trip of a lifetime, or maybe considering revisiting a favourite old haunt, now that international travel is firmly back on the agenda.
Each of our trips is looked after by an experienced UK Tour Manager, and includes all travel, comfortable accommodation, many meals and an array of activities handpicked by experts. All bookings are fully flexible, for complete peace of mind over the coming year.
Europe 2022 is Here
With the launch of our 2022 Europe holidays, your ticket to extraordinary rail adventures is waiting. We've got some exciting things to look out for, including a new holiday uncovering Italy's best-kept secret, Calabria, as well as a fantastic free regional travel offer. Of course, the important things remain the same, and we can't wait to get back to showcasing extraordinary destinations and unforgettable rail adventures on holidays with the reassuring Tour Managers, unique destination insights and great value you know and love.

Regional Travel Offer
We're making it even easier for you to get going on your next travel adventure, with free regional travel when you book on or before 1st December 2021.
Featured Train Tours 2022
Discover What's New for 2022
We're delighted that as part of our collection of 2022 European holidays, our Destination Specialists have hand-crafted four brand new adventures, so you have even more choice. From Sardinia to Transylvania, these small group tours take you beyond the well-trodden path, with unforgettable experiences creating lasting memories – all backed by our decades of expertise, inclusive value and complimentary luggage service. Find out more about our new holidays below and discover a holiday that truly stands apart from the crowd.
2022 Rail breaks
Where Will 2022 Take You?
Our holidays combine so much that's special about travelling – seeing the sights, enjoying time to relax, unforgettable railways and delicious food. After five decades of planning holidays, we know a thing or two about connecting great destinations with remarkable rail routes and love nothing more than sharing that with you. There's no better place to find your next adventure than this collection of bestselling holidays – trusted escapes that our
customers have loved year after year.
Experience Something Unforgettable
Our European 2022 small group tours take you beyond the well-trodden path, with unique new excursions hand-selected by our Destination Specialists that are guaranteed to create lasting memories. From wandering the halls of mysterious castles to authentic cooking classes that introduce you to unique local flavours, here are five of our favourite unforgettable experiences for next year.
Explore 'Dracula's Castle' in Transylvania
Immerse yourself in vampiric legend at Bran Castle in Transylvania, enjoying an insightful private guided tour before a Romanian dinner at the castle's restaurant.