France Train Holidays 2020/2021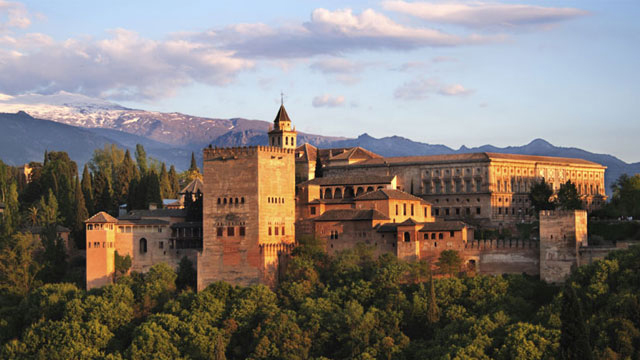 Culture, Passion, History & Elegance
Delve into the unrivalled charms of France and Spain on a spectacular Great Rail Journeys tour. From the incomparable elegance and rich cultural heritage of France, to the endless golden sands and unspoilt rural landscapes of Spain, we have a range of tours to suit every traveller
From rolling vineyards to Grand Cities. La vie en rose is beckoning, with a fabulous selection of tours to France. From the charming laziness of the relaxing Dordogne River, wending its way through the west of France and showcasing some truly lovely scenery, to the elegant and extravagant French Riviera, beloved by travellers around the world. Perhaps you'd like to sample some of France's most delectable delicacies in Provence, or explore the walled cité of Carcassonne? Whatever your French fancy, we are sure to have it here.
Is there any country more iconic than France? From the lazy, relaxed beauty of the Gargonne and the idyllic Dordogne, to the ineffably elegant and dazzlingly debonair Nice and the Côte d'Azur from its unmatched location in the French Riviera, there is far more to this magnificent country than just its capital city. Discover these destinations this year, with departures leaving in the autumn, the perfect time to discover these amazing corners of the world.
Dordogne & The French Riviera
Think floral summers, charming rivers, elegant cities and glittering coastlines. Now add a healthy dose of sublime French cuisine to the mix and you have the perfect recipe for 'la vie en rose'. With Rail Discoveries, you can experience all this and more as you explore the French Riviera and Dordogne regions of France on tours packed with excursions and meals that take you right to the heart of France's most magnificent destinations.
France Rail Tours

6 days from £890PP
Explore the famous sights of Nice with visits to some of the French Riviera's most picturesque resorts, such as Antibes and Cannes before unearthing hidden Villefranche-sur-Mer and the iconic principality of Monaco.

6 days from £760PP
Based in pretty Le Bugue, this train holiday takes you to some of the most beautiful parts of the Dordogne, where you can marvel at exquisite medieval towns, outstanding countryside and pre-historic sites.

6 days from £795PP
The picturesque region of Dordogne is adorned with pretty villages, unique history and many attractions. Take in the beautiful countryside and relax on a journey aboard a heritage train and a river cruise.

Avignon & the flavour of Provence
7 days from £895PP
Discover Provence through its pretty hilltop towns. Savour Les Halles' gastronomic charms, marvel at Arles and take in the beauty of the Camargue.

7 Days from £1,195PP
Discover Avignon, the Rhône and Provence. Inspiration for artists including Vincent Van Gogh, this region of France oozes history, charm and atmosphere. Staying in the delightful city of Avignon, we explore Roman Provence and enjoy a lunch cruise along the Rhône.

7 days from £1,495 per person
Superb sandy beaches, a mild climate and a delightful ocean promenade have drawn visitors to Biarritz for years. Here we see the region's lovely coastal resorts, the mighty Pyrenees and the unique Basque heritage.

7 days from £1,945 per person
Enjoy exclusive accommodation in some of the region's most impressive boutique hotels, experience the high life of the sparkling French Riviera with afternoon tea at the famous summer retreat of the Rothschild family, and immerse yourself in the culture of Provence and the Côte d'Azur with sightseeing tours led by local guides.

7 days from £1,595 per person
From timeless vineyards and sun-drenched hills, to imposing Cathar castles and historic abbeys, join us on a remarkable tour showcasing the very best of Languedoc. We explore the iconic walled Cité of Carcassonne, enjoy an excursion to Toulouse, and immerse ourselves in local market life.
7 Days from £1,595PP
The wonderful hilltop towns of fragrant Provence combine with chic resorts and the glamorous principality of Monaco on this exciting rail tour of Nice and the Côte d'Azur. Join us as we discover the French Riviera, which has long been a favoured destination of the rich and famous.
7 days from £975PP
From the Mediterranean coast to timeless vineyards, via mysterious citadels and medieval towns, taste Languedoc's southern way of life and fine wines, and marvel at Carcassonne's walled 'cité'.
8 days from £1,395PP
Let the gentle currents of the Rhône transport you through Burgundy and Provence. Discover the region's verdant vineyards and absorb the atmosphere of its historic towns, soaring cathedrals and half-timbered houses.
7 Days from £1,395PP
Enjoy this relaxing cruise through one of Europe's most famous wine regions. From the handsome city of Bordeaux, we navigate the Garonne and Dordogne, two of France's most scenic rivers, enjoying the unique landscapes lining their banks. And with 5-Star accommodation as well as all inclusive excursions, food and drink on board, it's the perfect way to explore.
More Information:
Biarritz & The Atlantic Pyranees - Avignon The Rhone & Provence - The French Riviera